Bord Bia Brexit Hub
UK Labelling and Market Entry Considerations Slides
As part of the post Brexit changes, regulations which cover food labelling requirements will come into effect from October 1st 2022. This Bord Bia webinar outlines the new requirements for Irish based food businesses trading with the UK and it will cover: - UK packaging and labelling requirements coming into effect from October 1st 2022 - Implications of these changes to your packaging - Local address requirements within the UK – manufacturer or importer - Practical options to meet these requirements - Legal entity structures in the UK – background and choices - Funding expansion in the UK and tax considerations - Practical do's and don'ts of setting up UK entities This webinar includes presentations and a Q&A from supply chain and trade consultants PerformanSC and financial and taxation consultants Ecovis. June 15th, 2022
UK Labelling and Market Entry Considerations Webinar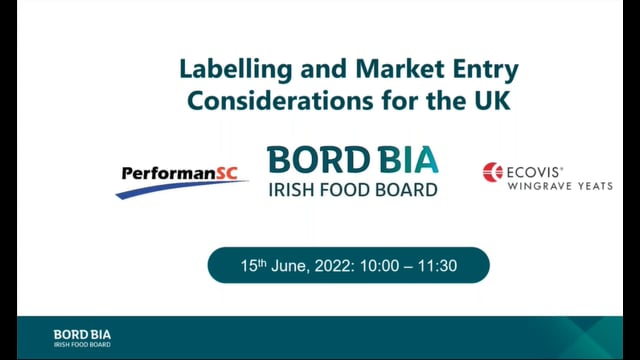 Bord Bia Bulletin - Trading with UK
Watch our latest episode of the Brexit Bulletin where Conor Anderson, Principal of Logistics and Compliance at Performance Supply Chain discusses some of the main Brexit-related challenges facing Irish food and drinks exporters trading with the UK at the moment.
UK Bord Bia Consumer Pulse February 2022
Bord Bia is continuing the tracking of UK grocery shoppers to gauge how the Brexit situation is impacting on attitudes towards the Rep. of Ireland and the core food & drink export categories. This study is conducted via a nationally representative survey of UK grocery shoppers online and this is the 14th wave of research conducted to date.
Doing Business with GB Video Series
With the practical impact of Brexit on trade with our nearest neighbour becoming more apparent, Bord Bia have worked together with BDO (with the support of Department of Agriculture Food and the Marine & The Office of the Revenue Commissioners) to develop a comprehensive set of videos - Doing Business with GB - to help Irish food, drink & horticulture companies navigate this new trading environment.
These short videos provide detailed information on what Brexit means for Irish food producers in practical terms, when importing from, or exporting to, GB. These videos will be updated as further clarification emerges.
Last Updated: 14 December 2021
Bord Bia Introduction video: 'Doing Business in GB'
Donal Denvir introduces the 'Doing Business in Great Britain' video series.
Understanding what Brexit means for your business
An important video to help in understanding what Brexit means for your business and how trade has been affected.
Understanding importing post Brexit
Now that Ireland's largest import partner the U.K, have left the EU, importing is something that Irish companies need to become familiar with.
Breaking News April 28th, 2022– UK Government delays border checks to end of 2023
The UK Government will publish a new "Target Operating Model" in Autumn 2022 with a view to introducing new border import controls by end of 2023
Bord Bia will continue its company supports on existing customs controls and compliance
The UK Government has announced a further delay to border checks and, specifically, to SPS controls which were due to come into effect in stages from July 1st.
Minister for Brexit Opportunities and Government Efficiency, Jacob Rees-Mogg, released a statement, which can be read in full here:
https://questions-statements.parliament.uk/written-statements/detail/2022-04-28/hcws796
He said that a new Target Operating Model in Autumn 2022 will be published that will set out the UK's new regime of border import controls. The new import control regime will then come into force by the end of 2023.
Specifically, the following controls which were planned for introduction from July 2022 will now not be introduced:
A requirement for further Sanitary and Phytosanitary (SPS) checks on EU imports currently at destination to be moved to Border Control Post (BCP).
A requirement for safety and security declarations on EU imports.
A requirement for further health certification and SPS checks for EU imports.
Prohibitions and restrictions on the import of chilled meats from the EU.
It is important to note that existing GB import controls, including customs declarations and compliance, will remain in place and Bord Bia will continue to support Irish food and drink companies in this area with webinars, workshops, 1:1 supports and online resources.
Please email brexit@bordbia.ie for any further information in relation to the above.
Brexit Action Plan
Bord Bia's Brexit Action Plan (2021) provides practical information that Irish food and drink manufacturers can utilise in order to prepare for increased complexity in future trade with the UK.
Learn More
Business to Consumer Consignments Republic of Ireland (ROI) to Great Britain (GB)
This is the second in a series of articles of the month where we deal with questions that arise frequently and that cause some issues for traders in the Irish food industry.
This month's article deals with the imports of goods from outside the UK in consignments not exceeding £135 in value (which aligns with the threshold for customs duty liability), HMRC have moved the point at which VAT is collected from the point of importation to the point of sale.
Read Here
Upcoming events
There are a number of Brexit supports and events taking place over the coming weeks. Click below to find out more and register.
View Events
More Brexit Info
Read the latest Trade with the UK updates.