Chipping Potatoes
Locally Grown Chipping Potatoes as a Market Opportunity
This section on the Bord Bia website is dedicated to developing marketing opportunities for locally grown potatoes destined for the chipping trade in Ireland.
In 2019, Bord Bia conducted market research, to establish consumer and trade views on fresh hand-cut 'chipper chips' and chipping potatoes. The research revealed great opportunities to expand the supply of quality locally grown chipping potatoes. This opportunity principally came from chip shop owners publicising the fact that potatoes they were using in their fryers were locally grown/sourced.
As a result, and to highlight the opportunity for locally grown chipping potatoes, Bord Bia has produced this promotional video exploring the market potential for locally grown 'chipping chips'.
This video features how local supply chain relationships can be highly successful, for chippers receiving a continuous supply of top quality product. It demonstrates that Irish growers can grow chipping potatoes of excellent quality and that many chip shop owners and managers are using local potatoes very successfully in their business. Many of the chip shop owners working with locally grown potatoes saw local supply as an advantage in their communications with customers.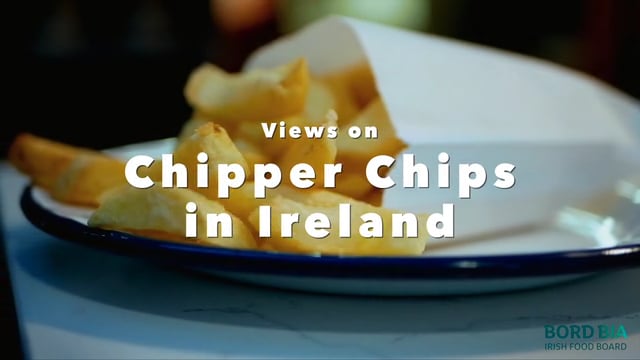 Chipping Growers List
Company Name
Brand Names in the Trade
Company Address
Contact Name
Email
Mobile number - person to
take sales enquires
Website Address
Social Media Address
Product Range
Details
Markets Served
Market coverage
Reynolds Farm
Paddy Reynolds
paddy@reynoldsfarm.ie
Rockvale Farm
"Rockvale Farm Chipping Potatoes" (Red and Black Bag)
"Irish Golden Chippers"
"Silver Star Potatoes"
Rockvale Farm, Sheepwalk,
Fermoy, Co. Cork, P61 W242
Colin Buttimer
rockvalefarms@gmail.com
0871449094
https://www.rockvalefarms.com/
https://www.instagram.com/rockvalefarm/
Suppliers of 20kg and 25kg Irish Chipping Potatoes to wholesalers and chip shops


Chipping potatoes supply to Chip Shops,
Wholesalers, Prepared chips processors, etc
Local and National
Meadowfresh foods
Meadowfresh foods

IDA Youghal road, Tallow, Co Waterford, P51 X6XP



John Geary / Kieran Kearney
sales@meadowfreshfoods.com
(058) 56555
N/A
N/A
25kg Washed and Unwashed. 15kg Washed/Unwashed/ Peeled


Chippers/Wholesale/prepped
South East
O' Shea Farms
O' Shea Farms
Ardclone, Piltown, Co Kilkenny, E32 AW02.
TJ O'Shea / Kate Foley
info@osheafarms.ie
(051) 643733
N/A
N/A
25kg Washed and Unwashed. 15kg Washed/Unwashed/ Peeled


Chippers/Wholesale/prepped
South East
Kilmore Potatoes Ltd
Kilmore Potatoes Ltd
Ringbawn, Ballyhealy, Kilmore, Co. Wexford
John Fortune
johnfortune@kilmorepotatoes.com
0872862914
N/A
N/A
We are suppliers of 10kg, 20kg and 25kg bags of all types of potatoes, specialising in chipping potatoes and pre chip Potatoes to the restaurant & catering trade nationwide.
Restaurant &
catering trade nationwide.
Wexford
John Thorne and Sons
John Thorne and Sons
Hedgestown, Lusk, Co Dublin, K45 H721
John Thorne
johnthorneandsons@gmail.com
0862775678
N/A
N/A
Suppliers of 10kg and 25kg chipping potatoes to the
wholesale and chipping potato trade
All Island
Paud Flynn & Sons
Paud Flynn & Sons
Drummond House, Old Road Rush, Co Dublin
Laurence Flynn
lar@pfs777.ie
0862554771
N/A
Instagram: flynns_farm
Facebook: Paud Flynn & Sons
10Kg & 25Kg chipping potatoes to the wholesale
and chipping potato trade
Wholesale, chipping potato trade, prepared chips processing

All Ireland
PJMcCarthy Potatoes
PJMcCarthy Potatoes
Donomore, Lislevane, Bandon, Co. Cork P72XH56

Eoin McCarthy
eoinmccarthy2012@gmail.com
087 2359530
N/A
N/A
Suppliers of 10kg, 20kg &
25kg chipping potatoes to the wholesale and chipping potato trade
Wholesale, chipping potato
trade, prepared chips and processing sectors.
Munster region
B & P Mitchell
Hillfarm
Hillfarm, Kilberry, Navan, Co. Meath
Barry Mitchell
mitchellshillfarm@gmail.com
0872986626
N/A
N/A
10kg, 20kg and 25kg chipping potatoes
Wholesale & chipping potato trade
All-island