AgDIf Masterclass Series
Imposter Syndrome – How to Deal with It Successfully
Many people experience Impostor Syndrome, frequently occurring among high achievers and people from underrepresented groups. Those affected question their success, often attributing their accomplishments to luck rather than to ability.
In this Masterclass, the last in our 2021 series, the award-winning learning & development company, ABSTRACT, will discuss this complex subject. This one-hour session will offer fresh perspectives on the topic and explore several proven strategies and interventions to disrupt and address the issue.
Click here to view the slide deck from the presentation.
Imposter Syndrome – How to Deal with It Successfully
AgDIf Masterclass Series 'Resilience in a Pandemic'
Resilience is our capacity to recover quickly from difficulties and adapt to change. The past year has been particularly challenging one and the good news is that we can build our resilience capacity, enabling us to master change more effectively.
Hear Solat Chaudry, Founder and Chief Executive of the National Council for Diversity and Group Chief Executive of Irish Centre for Diversity, explore the link between Fairness - Respect - Equality- Diversity - Inclusion – Engagement (FREDIE) and Resilience in the post-pandemic world ; share some powerful insights for leaders, managers and individuals to consider and adopt when building resilience in the changing, uncertain, world of work we face. You will also hear from John O'Brien, MD of O'Brien Fine Foods, who will talk about Resilience from his company perspective, focusing on how a diverse team/workforce impacts organisational resilience and leads to better outcomes and enhanced performance.
Resilience in a Pandemic
AgDIf Webinar 'The Role Cognitive Diversity Plays in Helping Your Business Thrive'
Cognitive Diversity is the term which describes the differing behaviours, experiences and expertise that individuals bring to a group. Hear from Adam Harris, Founder & CEO of AsIAm, on the importance of diversity in the workplace. John Jordan also shares his perspectives on how cognitive diversity has made a difference at Ornua.
AgDIf Webinar video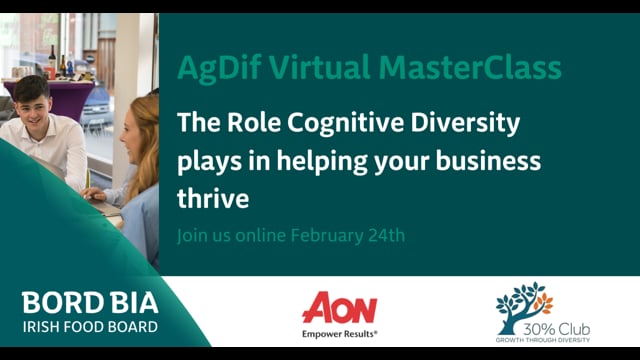 AgDIf Webinar 'A Spotlight on Inclusion in a Time of Crisis'
Hear more from the latest AgDIf industry pulse survey report and the industry learnings and insights which have emerged. Hear from industry experts on how you can empower your business to engage in the diversity and inclusion agenda, even in the time of Covid- 19.
Previous Masterclasses
Ag Dif runs a series of masterclasses focusing on educating and supporting industry around various D&I areas. We have previously run three Masterclasses:
The first looked at the area of Growing your Talent Pool, our second masterclass focused on creating a culture of flexible working and our third focused on overcoming recruitment challenges.